Robert Madison, Architect and Founder of Robert P. Madison International, Inc.

Robert Madison is a Place.Maker honored for his contributions to the design and construction of Cleveland's most imaginative, inspiring and recognizable landmarks: FirstEnergy Stadium, The Rock & Roll Hall of Fame and Quicken Loans Arena, to name a few. Mr. Madison was the first African-American architect licensed in the state of Ohio.

Nay Soe (left) and Htoo Htoo Thaw (right) Mentees and Volunteers for Refugee Response

Nay Soe and Htoo Htoo Thaw are Place.Makers acknowledged for their work with Refugee Response, which operates the Ohio City Farm, and supports more than 60 refugees each year.
Phyllis Harris, Executive Director for the LGBT Community Center of Greater Cleveland

Phyllis Harris is a Place.Maker recognized for her leadership with many Northeast Ohio nonprofits and the LGBT community. Ms. Harris became the first African-American in 40-years to hold the position of Executive Director for the LGBT Community Center in its 40-year history.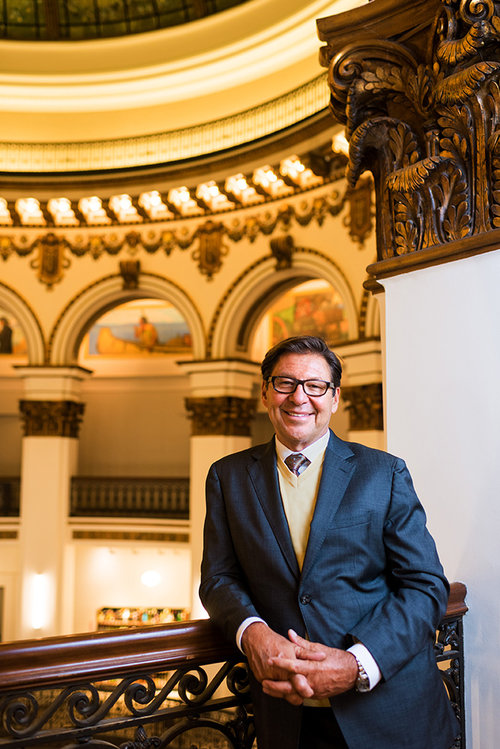 Fred Geis, Founder and Principal of Hemingway Development

Place.Maker Fred Geis was honored for his current philanthropic endeavours and focus toward urban development projects. Mr. Geis has spent more than 30-years in real estate development.
Felton Thomas, Jr., Executive Director and CEO of the Cleveland Public Library

Felton Thomas was recognized as a Place.Maker for his work to change the perception of what libraries can be—a deficit fighter and safe place for people to improve their lives.
Christin Farmer, Executive Director of Birthing Beautiful Communities

Christin Farmer is a Place.Maker honored for establishing a local network of birth workers to support women in Cleveland's urban suburbs and helping to improve prenatal care.
Jacob VanSickle, Executive Director of Bike Cleveland

Jacob VanSickle was honored as a Place.Maker for his tireless work to make Cleveland more connected, equitable and sustainable by creating new bike lanes, and for the education of drivers and cyclists on safety.
John Anoliefo, Executive Director for Famicos Foundation

John Anoliefon is a Place.Maker acknowledged for leading impactful housing and community development projects and his commitment to Northeast Ohio for the past 40-years.
Roshonda Smith and Cheyenne Russell, True2U Mentor and and Student

Place.Makers Roshonda Smith and Cheyenne Russell for their connection as mentor and student representative of True2U's mission of helping Cleveland eighth graders recognize their interests, strengths and goals and apply these learnings as they plan for their future.
Brandon Chrostowski, Founder, President and CEO of EDWINS Leadership and Restaurant Institute

Brandon Chrostowski was honored as a Place.Maker for founding the EDWINS Leadership and Restaurant Institute in 2007, which gives those once incarcerated, with important tools for both life skills and career skills, to enter society and thrive.

Daniel Gray-Kontar, Executive Artistic Director for Twelve Literary Arts

Place.Maker Daniel Gray-Kontar was recognized for founding Twelve Literary Arts, which brings performance poetry to public spaces and supporting poets and writers of all ages.
Jenice Contreras, Executive Director for Hispanic Business Center

Jenice Contreras was honored as a Place.Maker for her leadership and guidance of educational and developmental support programs for the Hispanic community in Northeast Ohio.
Dumaine Williams, Principle Bard Highschool Early College